WHO WE ARE
The Térraba, or Teribe, are an indigenous group in the Puntarenas region of southern Costa Rica with a rich cultural heritage. Located on approximately 34.7 square miles (9,000 hectares) along the Térraba River, the Térraba have survived off the land for more than 500 years.

The town of approximately 600 natives can trace its roots back to the pre-Colombian Chiriquí civilization. The Teribe Indigenous Cultural Association (Asociación Cultural Indígena Teribe) aims to rescue, strengthen and cultivate the Térraba culture, traditions, identity, respect for nature, the environment and spirituality.
A COMMUNITY OF EQUALITY

Unlike many communities around the world, the Térraba consider themselves matriarchal. Women are entirely equal to men, and in some instances valued more. They are the most knowledgeable about the agriculture, medicinal plants, and providing food for their families. Women are the teachers and take their responsibly for passing that information down through the generations seriously. Not only do women take the lead within the homes, but they also help fight for indigenous rights in the community activist groups.
SUSTAINABLE PRODUCTION
Térraba's agricultural community sustains the local economy and produces enough food to support the entire town. Their fertile lands grow rice, beans, oranges, mangos, yucca, coconuts, coffee, bananas, corn, cacao and much more.
Their ability to produce their own food has directly influenced the lack of poverty in the community. In addition to food, the community also has maintained its knowledge of medicinal plants that has been passed down for hundreds of years.
A LANGUAGE NOT LOST
The traditional language, Teribe, is only spoken by a handful of people in the community. However, the efforts to recover it are supported by the Teribe of Panama, another group that shares its culture and history with the Térraba of Costa Rica.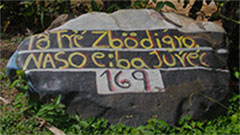 The Panamanian community has been able to entirely maintain the native language, and has assisted the smaller Costa Rican community by sending a professor to the area to help teach the language.
RELATIONSHIP WITH THE EARTH
Despite hundreds of years of Spanish occupation and Catholic influence, the people have been able to maintain their spirituality, traditions and relationship with the Earth. The Térraba do not practice a specific religion, but rather consider themselves deeply spiritual people with a connection to Mother Earth and the Térraba River.
The river has a deeply spiritual significance to them, and many legends and traditions revolve around it.