DAM AND LAND RIGHTS
Since the Spanish Conquistadors arrived in Costa Rica, the Térraba have been forced to fight for their right to maintain their land, culture, language and traditions.
In recent years the most pressing issue has been the government's decision to build a $2 billion hydroelectric dam. The project would displace people who have lived in the area for more than 500 years, destroy indigenous land and greatly affect local biodiversity.
The Térraba people have had issues with land rights management since they were granted the title to part of their traditional territory in 1956. In 2004, the title was amended and reduced without notice or consultation, fragmenting the territory into blocks.

The Costa Rican Electricity Institute (Instituto Costaricense de Electricidad – ICE) approved the Diquís dam (or Diquís Hydroelectric Project), which would create a 27-square-mile lake flooding 10 percent of Térraba-titled land.
Because the dam would flood farmland, it would displace much of the tribe, drown or destroy access to sacred sites, and devastate a culture that has independently sustained itself for hundreds of years. Studies suggest more than 300 places of archeological significance are located in the affected area.
In 1977, the government of Costa Rica established laws to protect indigenous populations from infringements on their land rights and human rights. Laws addressed who could access the lands as well as the protocol for including community members in the decision-making process for implementing programs that will directly affect them.
Despite these laws, the Térraba were not consulted when ICE sent workers to the territory to begin building the dam in 2007. With the help of the United Nations, however, members of the community were able to file a lawsuit against ICE for indigenous and human rights violations in the hopes of halting the $2 billion project.
EDUCATION
In addition to their land struggles, the Térraba have also been fighting for their right to have influence in their local school system. They want an education system that respects their cultural belief system rather than one that dismisses them.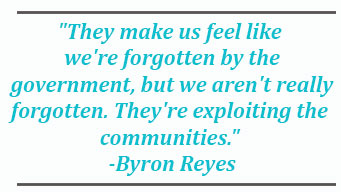 The community wants the right to determine how the traditional culture is taught in schools so they will be able to maintain their indigenous identity. In early 2012, after feeling that they weren't being heard, the Térraba occupied the school to demand change. The protest, although dangerous, helped to strengthen the community's voice.
RESOURCES
United Nations - Committee on the Elimination of Racial Discrimination
United Nations Special Report - The situation of the indigenous peoples affected by the El Diquís hydroelectric project in Costa Rica, 2011
Swimming Against the Current: The Teribe Peoples and the El Diquís Hydroelectric Project in Costa Rica
Elon University's Interactive Media Program - Elon, NC
Térraba, the Truth About an Indian Village - Voices of Youth
"There You Go" - Oren Ginzburg, Survival International